Transformations - Poetry
Harold Garde: Hope for a good day
Then I forgive myself, the doer of the deed
And repent, but only weakly and with no remorse
If it were to be, so be it. Now it is gone, and gone it is
The traces left are only there if memory is stressed
And memory is quick to grasp at what remains
and what is new swiftly triumphs over what was there.
A task of add and a task of removal, all unsure.
Unpredictable, the order for my brushes layering paint on canvas.
The painter pushes me out of my bed and harks the morning
My bathroom mirror viewed with still unfocused eyes
Works to tell me that the me I see is the painter I have to be
Not so, say I. It is too hard to make a something
where there is no substance, no truth, no insisting image.
So to that, alas, again I do reply: Shut up and paint.
---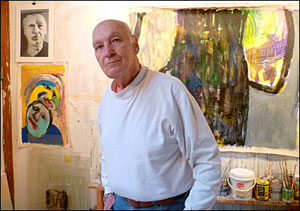 Harold Garde splits his time between Belfast and New Smyrna Beach, Fla. He is a painter with work in permanent museums and significant private collections. He is the subject of several art films that have been broadcast on Public Television in Florida, Maine and Wyoming, including one in the ongoing Maine Masters series. His play, The Rec Room, was selected and performed in the Maine Fifteen Minute Play competition and later at the Atlantic Center for the Arts in Florida.
---
Transformations
We tell stories.
We tell stories to make sense of our lives.
We tell stories to communicate our experience of being alive.
We tell stories in our own distinct voice. Our own unique rhythm and tonality.
Transformations is a weekly story-telling column. The stories are written by community members who are my students. Our stories are about family, love, loss and good times. We hope to make you laugh and cry. Maybe we will convince you to tell your stories.
— Kathrin Seitz, editor, and Cheryl Durbas, co-editor
"Everyone, when they get quiet, when they become desperately honest with themselves, is capable of uttering profound truths. We all derive from the same source. There is no mystery about the origin of things. We are all part of creation, all kings, all poets, all musicians; we have only to open up, only to discover what is already there." — Henry Miller
Kathrin Seitz teaches Method Writing in Rockport, New York City and Florida. She can be reached at kathrin@kathrinseitz.com. Cheryl Durbas is a freelance personal assistant in the Midcoast area. She can be reached at cheryldurbas@tidewater.net.