Pickup trucks being the Swiss Army knives of motor vehicles, Ford now offers a choice of six powertrains, three cab styles and two bed lengths for its brand-new-for-2021 F-150 series. Throw in the long list of options (functional and/or posh) and trim styles and we have a vehicle that can range from a $30,000 V-6-powered wheelbarrow to a $75,000 hybrid-powered mobile workstation.
A hybrid—that is, gas-electric—pickup truck? Yes, indeed, and high time, too. Ford says this beast is rated for 24 miles per gallon in both city and highway driving, but the best I could achieve was barely 21 MPG, on a two-lane road at about 45 miles per hour. The 3.5-litre PowerBoost Full Hybrid w/10-Speed Transmission is a $2,500 option, but what benefit does it deliver? 
This tickled my friend Mike whose plain-jane 5-year-old V-8-powered F-150 4x4 averages 19.5 MPG in town and hits the low 20s on the freeway. Perhaps Ford is using this new hybrid drivetrain to prep its truck buyers for the coming electric revolution, while gaining some experience with it themselves. 
If so, here's another item for the to-do list: Smooth out the full-power downshifts, which might be so abrupt because of the transitions between gas and electric drive. But if we toe into the throttle more gently, the surge of electric power is smooth and irresistible. It usually takes just a few miles to convert internal-combustion fans to electricity, and it's the torque that does it. 
Otherwise, the F-150 is still the only pickup with an aluminum body, and changes for 2021 have more to do with clever add-ons rather than market-shifting breakthroughs. (Other than the PowerBoost hybrid drive, of course.) Thus our $75,875 F-150 is a sophisticated machine.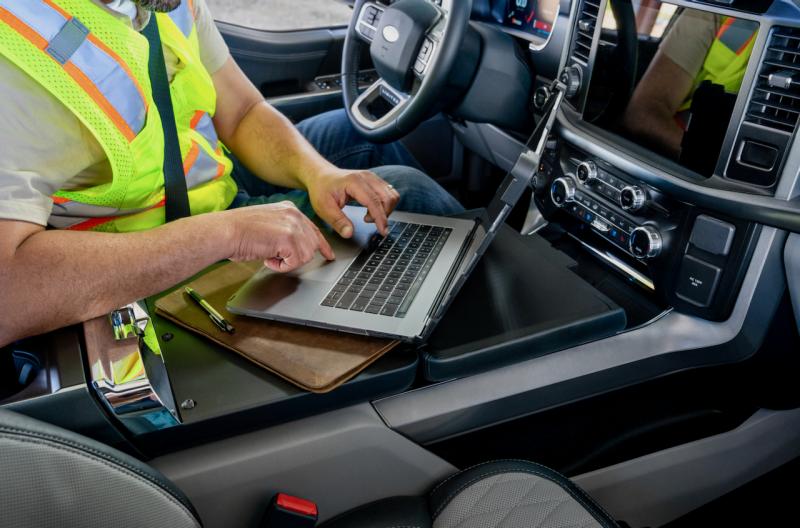 The center console converts to a "desk"—the gear lever retracts and the armrest unfolds to become a work surface for a laptop computer. There are power outlets nearby as well as an inductive phone charger. And when Mr. or Mrs. Contractor needs a break, the optional Max Recline front seat unfolds into a bed of sorts. 
The PowerBoost drivetrain includes a new 2.4-kW Pro Power Onboard generator and a 7.2-kW generator is available. The generators are accessible through a pair of 120-volt, 20-amp outlets in the bed; the 7.2-kW setup has two extra 120V 20A plugs and a fourth one rated for 240 volts and 30 amps.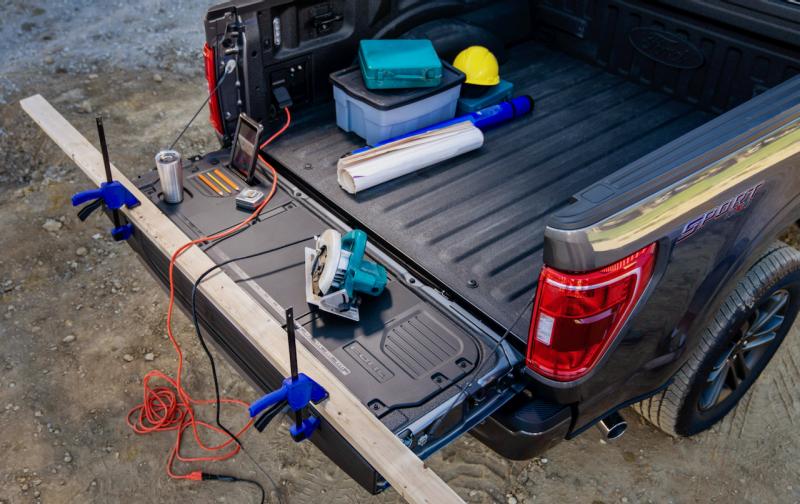 And this is Ford's new optional working tailgate, with rulers, clamping surfaces, a place for a tablet or smartphone, a cupholder and pencil holders plus built-in lights for working after dark.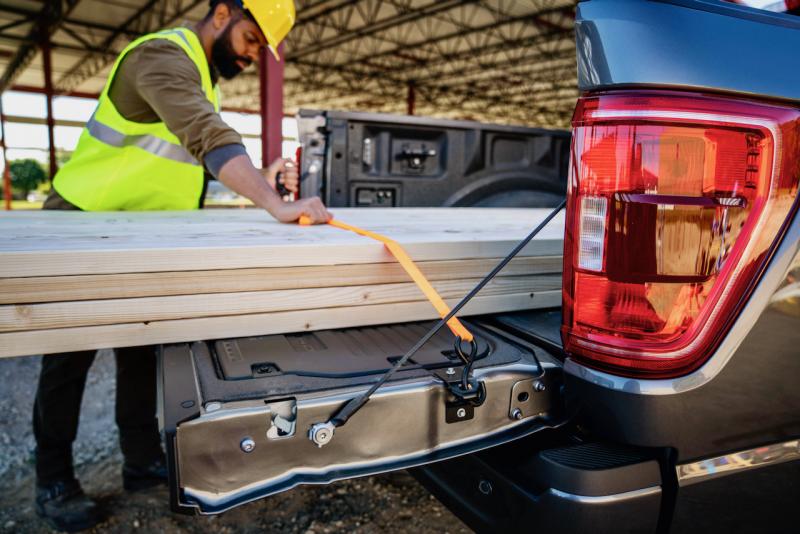 Ford also added tie-down cleats to the sides of the new F-150's tailgate for long loads. The tailgate can be lowered remotely from the cab (for a "soft" open) and it includes a stowaway step and handrail. 
But this isn't all—not by a long shot. Our optioned-up truck has sufficient comfort, convenience and safety features to outfit a luxury sedan, ranging from a 360-degree camera system to a Bang & Olufsen stereo, a huge touchscreen, WiFi hotspot, an enormous twin-panel power moonroof, steering and braking assist, a heated and power-adjusting steering wheel and much more. Plus of course all the truck features already mentioned, along with a four-door cab, 4-wheel drive, some off-road gear, a heavy-duty towing package and electrically deployed running boards. 
One could argue that, dollar for dollar, such an F-150 delivers better value than a luxury sedan—and how many BMWs or Cadillacs can tote a load of lumber or power a tailgate party? 
---
Silvio Calabi has been reviewing cars since Ronald Reagan removed the solar panels from the White House. He lives in Camden.