Transformations...poetry
Anna Chern: 'To Jordan Pond'
To Jordan Pond by Anna Chern
The brassy feel of high summer defies the first foggy hued mornings of fall,
A crinkle of leaves underfoot, a steady footfall beside me as we make our way to the water
A blue eruption, among the wilting ferns and grasses, hillocks of ochre and rust, too vivid in its showiness
Beyond, silhouettes of Bubble rocks, witnesses to the creation of this place, this glacier turned pond.
My toes sense the ice giving birth to this dwelling of salmon, trout and boulders so slick,
Only the rising sun bouncing off them etches rougher stripes of cobalt, grey and black
Ancestor giants to pebbles and rocks strewn across this landscape, granite titans hug the shore protectively.
Toes move further into the lapping water braving pitted surfaces and heaving mud tangles
The light is full with breaking dawn and lifting mists, our noses turn toward the balled up sun unraveling slowly against a bank of clouds
The sun prevails, sly in her machinations
Fish rear up in the distance, silvery carcasses jubilant, aquatic Lipizzaners
Gnarled limbs of driftwood bob up as waters vaporize in the noonday sun, straggly roots of junipers along the shore lift up in unison.
---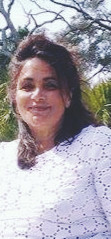 Anna Chern has lived and worked on three continents and speaks in many tongues. Born in New Delhi, transplanted to London, Paris and Canada in turns, she has grown to love the vagaries of the seasons in Maine and the slivers of sunshine. Her favorite place in Maine is any and every lake.
---
Transformations
We tell stories.
We tell stories to make sense of our lives.
We tell stories to communicate our experience of being alive.
We tell stories in our own distinct voice. Our own unique rhythm and tonality.
Transformations is a weekly story-telling column. The stories are written by community members who are my students. Our stories are about family, love, loss and good times. We hope to make you laugh and cry. Maybe we will convince you to tell your stories.
— Kathrin Seitz, editor, and Cheryl Durbas, co-editor
"Everyone, when they get quiet, when they become desperately honest with themselves, is capable of uttering profound truths. We all derive from the same source. There is no mystery about the origin of things. We are all part of creation, all kings, all poets, all musicians; we have only to open up, only to discover what is already there." — Henry Miller
Kathrin Seitz teaches Method Writing in Rockport, New York City and Florida. She can be reached at kathrin@kathrinseitz.com. Cheryl Durbas is a freelance personal assistant in the Midcoast area. She can be reached at cheryldurbas@tidewater.net.